Yoga teacher training course 200 hours in Rishikesh can be best experienced at Yogada in the Himalayas, an ashram retreat & School of Sattya Yoga for Himalayan Yoga & wellness with wisdom,  as traditionally practiced by Yogis in these part of the Himalayas, where the yoga was conceived thousands of years ago.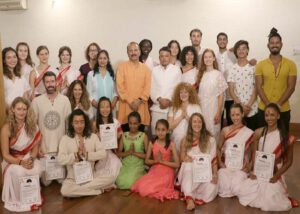 Yoga at Yogada Ashram School in Rishikesh Location  on the right high Bank of the Ganges, surrounded by thick reserve forests of Himalayan Foothills, where nature in abundance with Sound of roaring Ganga & rare species of Himalayan birds, & Himalayan herbs in the forests around  makes it an ideal destination for peace seeker through yoga and meditation, taking Yoga teachers training course 200 hours and teachers training course 300 hours with other wellness packages & short Yoga  courses in Rishikesh of  33 hours , 66 hours and 99 hours.
Yogada Ashram is an authentic & traditional Himalayan Yoga School in Rishikesh sharing the ancient Vedic knowledge, wisdom & traditions of yogis of this part of the Himalayas through their primitively rooted and scientifically programmed yoga teacher training course 200 hours with other Best Short Yoga courses in Rishikesh for  25 hours , 50 hours and 100 hours, available in Rishikesh Yogada Ashram

Accommodation in Rishikesh Yoga School 
Accommodation in Yogada Ashram School is spread over in big green area of Mango, Leechi & Orange trees overlooking the Ganga River & the mountains of lower Himalayas. Rishikesh Yoga School Vibrated spacious  halls & high energy pockets in the greens offers great place for spiritual practices.  Being at the birth place of yoga, the Mystic Himalayas where the vibes of saints & sadhus who meditated in this area from time immemorial as well as mantras of pilgrims staying here on their special pilgrimage to the mountains, can still be felt in the air, adding to your spiritual experiences and making your 200 hours Teachers training course in Rishikesh as very special one.
Yoga Courses in Rishikesh
Other than 200 hours Yoga teachers training course, Yogada offer short yoga courses in Rishikesh starting from 25 hours yoga course in Rishikesh to 50 hours Yoga Course & 100 hours Yoga courses in Rishikesh for tourists and seekers who have less time in the area. Yoga courses at Yogada Rishikesh are a comprehensive approach to yoga covering all the dimensions of yoga from physical aspects through asana and going beyond with  pranayama, meditation and rare traditional techniques of Himalayan Yogis taking  you to much higher level of existence as human.
Deeksha – The Initiation – 33 hours Yoga Course in Rishikesh, with initiation to Sattya yoga and preparing yourself physically to align yourself to the cosmic geometry  connecting to higher self……
Deeksha yoga teacher training in rishikesh yogada, with initiation to sattya yoga and preparing you for churning of  yourself with the time tested ancient knowledge – the art & Science of yoga,  and getting ready for the total transformation……
100 hours teacher training course in rishikesh,  with initiation to Sattya Yoga and churn yourself deep to make you evolve to a deeper heights and transforming yourself to an all new of you.. …….. ready to be guided by the universe to take you as per your cosmic plans………
Yoga & Wellness Retreats in Rishikesh India
Yoga courses  in Rishikesh at Yogada can also be combined with wellness packages with Ayurveda to experience pure wellness.  Yogada offers short overnight wellness experience to Fourteen days packages making you experience, pure well ness with ayurveda treatments & massages using fresh Himalayan herbs picked from the adjacent reserve forests of Himalayan foothills along the Ganga in Rishikesh.
Yogada Ashram School is surrounded with reserve forest and offers great nature walks in the area to encounter the flora and fauna of Lower Himalayas. Above all what make Yogada special is the team of dedicated staff, Rare teachers, Guru Yogis and Ayurveda doctors coming from the nearby villages and high Himalayas.
Yogada have The village style kitchen & local Chefs provide authentic Himalayan Organic food full of love & richness of Himalayan Cuisine made of supplies grown organically in the high Himalayan regions of the area.  One can take part in following Yoga and Wellness retreats in Rishikesh at Yogada.
Yoga & wellness Packages  in Rishikesh
Yogada Rishikesh Experience: Overnight stay amidst pure nature to bring yourself and system to relax  in peace breathing the pure Himalayan breeze, eating the pure organic food in the middle of forest area with floating butterflies, chipping of the Himalayan birds and the roar of the river Ganges  pampering your body with Yoga sessions & Ayurveda Massage Treatment and quieting  your mind with meditation…..
Atam Sukha – Pleasure thy Self –  A perfect retreat to pamper your body, mind & soul giving you a relaxed body, calm mind and soul experiencing elevated consciousness to not only increase your efficiency in day to day life but showing you a path to follow in life. Imagine waking up with the chipping of birds, practicing gentle yoga & very special mediation sessions amidst pure nature in the Himalayan foothills the home of Ayurveda and rare herbs, making exclusive walks  on the silver sand beaches on the Ganga river. Bath in the fresh sulphur spring water swimming pool while you watch the gushing Ganga river flowing nearby.  After dinner relax in your balcony listing the sound of the forest and wild animals from  the national park across the river in Rishikesh…………..
Atam Aanada – 9 Nights & 10 Days of living with pure nature to experiencing pure connect to yourself,   relaxing &  pampering yourself with morning & evening yoga sessions with special Ayurveda Massages and treatments with freshly plucked Himalayan herbs from the adjacent reserve forests. A pure treat to your Body and Mind connecting to your soul in deep mediations in the morning and evening hours  with the sound of nature and the deep silence with in ….  Give yourself a treat while you ………..
Atam Ananda Plus + – 9 Nights & 10 Days of giving yourself a treat with doing morning & evening yoga in pure nature and crystal clear beaches on the Ganga & pampering yourself with special Ayurveda Massages & treatments, sunrise and sunset contemplating walks on the foothill of the Himalayas and giving yourself a  connect thorough special meditation sessions in deep silence …..
Enjoying special customized Himalayan food and living in highly purified & energized comfortable ethnically designed accommodation. Soak in yourself to a pure ……….