2023 Yoga Course in Rishikesh Level – 1 : 33 hours
Three Nights Four days Yoga, Meditation & Kundalini
Deeksha
Yoga Course in Rishikesh: Deeksha – Initiation with Sattya yoga and preparing yourself physically to align yourself to the cosmic geometry connecting to higher self……
Initiating you to yourself to understand that you are the unit of the UNIVESRE to manifest the powers of universe to radiate, making life a romance with yourself.
Yoga is a science to make yourself in line with the cosmic geometry and elevating yourself to the higher level of existence for complete transformation and visualising, creating, and reaching your destiny.
Come and explore yourself with the time tested knowledge of wisdom – the Yog, with Sattya Yoga amidst pure nature on the banks of Ganga at the Himalayan foothills.
Experience & live 33 hours of YOG from Initiation & understanding the right path of YOGa.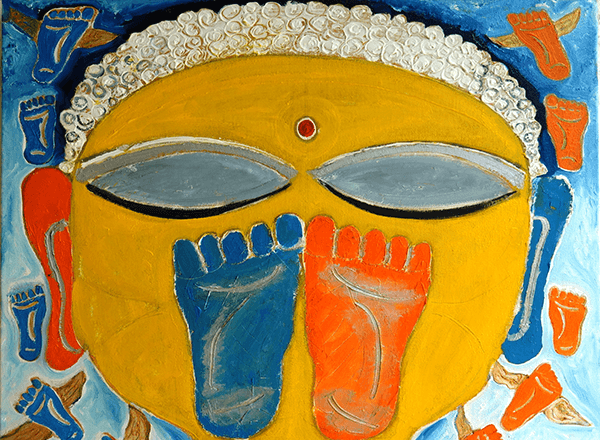 Yoga Course Level – 1 : 33 Hours : Deeksha –  Initiation
Deeksha (Initiation) 33 hours – Get initiated to Sattya yoga to Explore & Know yourself, taking 3 nights & 04 Days specially designed program using primitive traditional techniques of yoga to understand what is the true YOGa & evolve to a much higher self to enjoy the life at its best.
Deeksha : Yoga Course 33 hours 3 nights 4 days Package Includes:
Accommodation:
       3 Nights' accommodation in ethnically designed rooms & cottages with attached bath and hot water 24X7.
Meals: Yoga Course 33 hours Package
               Sumptuous meals served hygienically with love, and cooked with organic supplies grown high up in the Himalayas and herbs Grown in wild inthe earby reserve forests.
               03 Breakfasts 4 lunches, 3 Dinners
              Morning tea and evening tea with yogic snacks.
Activities : Yoga Course 33 hours Package
Initiation to Sattya Yoga with Shakipat at the beginning and end of the course.
                   Daily Early morning nature walks in the reserve forests and crystal clear sand beaches (60 Minutes)
                   Daily Early morning Cleansing Sessions (30 Minutes )
                  Daily morning class (90 minutes each) of covering physical dimensions of yoga with Asanas.
                  Daily One Class of Yoga Philosophy / Mythology exploring the roots of Yoga to make your foundations of Yoga deeper and stronger.
                  Daily Afternoon Class (90 minutes each ) of covering different dimensions of Asanas.
                  Daily evening class (90 minutes) covering Pranayama, Kriya, & Dhayna (Mediation) with special transformational and awareness sessions, kriyas
                  mediation for  higher Consciousness.
                 Daily Evening chanting & cleansing sessions – Fire Ceremony.
Daily Bhakti Yoga – Evening Chanting sessions .
Daily Karma Yoga sessions in the morning & evening.
Daily Japa Yoga – Beej Mantra repeating Sessions in the evening.
Certification of Yogada – An internationally recognised Yoga School by Yoga Alliance USA
                                        Certificate for Yoga Course 33 hours
Limited seats in all batches from 9 students to maximum 16 students in one batch.
For more details please e mail to Yogadahimalaya@gmail.com or Yogada@rishikesh.in
Level : 1 – 33 Hours Yoga Course
| | | | |
| --- | --- | --- | --- |
| Indian Students | In INR | Foreign Students | IN USD |
| Twin Sharing – Standard | 21,995 | Twin Sharing – Standard | 265 |
| Twin Sharing – Deluxe : Air Conditioned | 26,394 | Twin Sharing – Deluxe : Air Conditioned | 318 |
| Single Occupancy –  Standard | 25,315 | Single Occupancy –  Standard | 305 |
| Single Occupancy – Deluxe : Air Conditioned | 29,714 | Single Occupancy – Deluxe : Air Conditioned | 358 |
The cost does not Include 12% of GST Taxes, which has to be paid only at the time of check in upon arrival
Starting Dates Duration 
Name of the Course: Deeksha : 33 Hours

2023-24

Month
1st Batch
2nd Batch
3rd Batch
4th Batch
2023-24
January
1st January
8th January
16th January
24th January
February
1st February
8th February
16th February
24th February
March  
1st March
8th March
16th March
24th March
April
1st April
8th April
16th April
24th April
May
1st May
8th May
16th May
24th May
June
1st June
8th June
16th June
24th June
July
1st July
8th July
16th July
24th July
August
1st August
8th August
16th August
24th August
September
1st September
8th September
16th September
 24th September
October
1st October
8th October
16th October
 24th October
November
1st November
8th November
16th November
24th November
December
1st December
8th December
16th  December
24th  December